One of it's kind in Australia ?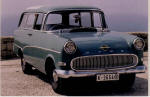 Hello,
I own an OPEL P caravan of 1960. It is still in original condition, with 6 volts ignition. It clocked 37000 miles (original) and
I wish to buy left and right mirrors
- if possible original - to fit on the fenders.
Can you please help me find them?
As long as they are in good condition.
Thank you in advance
Anyway my Opel used to belong to my father who bought it new in Malta in 1960. It only clocked 37000 miles and it is right hand drive from factory. It is a father to son ownership, because I imported it in Australia about 13 years ago and I hardly use it. Being an automotive engineer myself I enjoy to start it every now and then and go for a short drive in it. It has never been restored because it is still in good condition. But now I'm thinking of re spray it and remove a little rust on the front fenders, and a small dot on the top of the tailgate. That's why I want the mirrors to keep it original.
The photo I sent you is when it was still in Malta, but the condition is still the same, and the number plate is KAIZER. I installed an 8 volt battery which was made up from a 12 volt one to give better lights and starting, and adjusted the output of the generator to suit.
I believe that this is the only one of it's kind in Australia but, in Adelaide South Australia, there were two others but models after mine (1961/62) and in Western Australia there was a 1960 Kapitan. I live in Melbourne.
Thank you for writing to me, and if you can help me with the mirrors I will be very grateful.
Regards,
Vincent Camilleri (Australia)

This site contains only information of Opel P1 models: Opel Rekord or Olympia end 1957 ,1958,1959,1960,1961. with a 1500cc or a 1700 cc engine and the opel 1200 cc model 1962.
counter old counter new